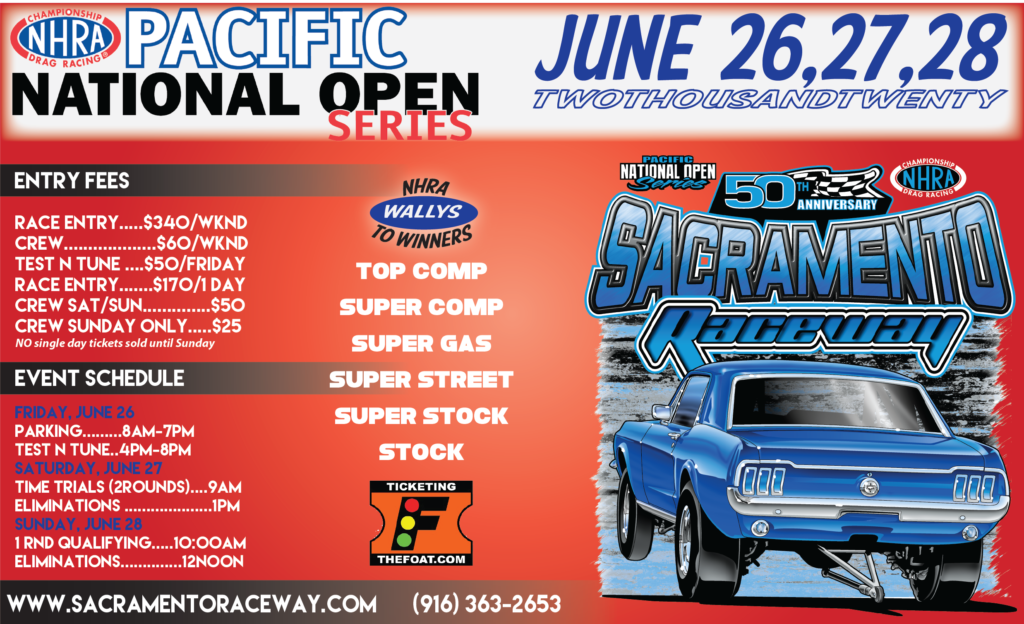 Sacramento Raceway's National Open is part of NHRA's Division 7 Series.
Racers are competing for over $20,000 cash, NHRA Coveted Wallys and Points to attend National Events.
GATE INFO:

Friday 
8:00 AM-6:00 PM Pit Gate/ticket Sales open. All racers arriving after 6:00 PM can stay in the front lot until gates open on Saturday.

Ticket Price: $60, in advance per crew member or $60 at the gate (only full event Crew Bands will be available for purchase on Friday)
Saturday
8:00 AM-7:00 PM: Pit gate ticket sales open.
Ticket Price:  $50, in advance or $50 at the gate (only 2-day Sat/Sun Crew Bands will be available for purchase at the gate) These are limited and may be sold out. NO General Pit Spectators are allowed.

Spectator Side (gate#3) will not be open during this weekend. Every ticket is a pit pass.

Sunday 
8:00 AM-4:00 PM Pit gate ticket sales open: All Gates Closed with no re-entry at 10:00 PM each night.
Ticket Prices: $25 in advance, $25 at the gate. restricted area passes may not be available.
RACE ENTRY: $340 for Sat/Sun. Eliminations Each day.
PRE ENTRY: required on the foat.com ticket link is on this page.
RACER PARKING: Racer Package comes with one parking pass for tow vehicle only, when towing in the race car trailer.  Extra Overnight parking is $40 per RV or camp trailer or $20 per passenger vehicle. Passenger vehicles are not allowed to park in the racer's pit area. Passenger vehicle parking is on the south side of the pits.
PIT PARKING: Front lot parking is free. Pit Area parking is $20 per vehicle. Pit Parking is limited to designated area on south side of Pit area.  Do not park your vehicle in racer's pit spaces.  You assume all risks of theft and damage while parking at Sacramento Raceway.
RACING TIMES:
FRIDAY
4:00 PM- 8:00 PM: Test & Tune ($50)

SATURDAY
9:00 AM: Time Trials

1:00 PM: Eliminations


SUNDAY
10:00 AM: Qualifying


12:00 PM Eliminations

7:00 PM Secure track

10:00 PM front gate to remain open for all racers to exit until Monday 4:00PM

In order to reduce contact All tickets are being sold on the foat.com site including TNT. Individual waiver, Covid waiver and tech card will be given to you at the gate when you check in with your foat.com scan barcode.

If you are attending the June 19,20,21 event you may leave your trailer/rig in the South Parking lot until the National Open Race and later if necessary. This is only available for the TnA racers who are racing the TnA race on the 19-21.