SCHEDULE:
FRIDAY
Gates Open: 10:00am
2:00pm-6:00pm: Test and Tune
6:00pm: JACKPOT E1 (must purchase a test and tune entry to qualify), $20 Buy-In in the staging lanes. Track will match all entries!
6:30pm: CIFCA Q1
7:00pm: Ticket Sales End
8:00pm: Track Secured
SATURDAY
10:00am: CIFCA Q2
10:30am: Hot Rod TT, D/Gas, C/Gas, NE3, NE2, B/Gas, NE1, A/Gas, 7.0 Pro, Jr Fuel, A Fuel Q1
1:00pm: CIFCA E1
1:30pm: Heritage Categories Q2
4:30pm: CIFCA E2
5:00pm: Heritage Group 2 Eliminations Round 1 *except Hot Rod*
7:00pm: CIFCA E3
8:00pm: Track Secured
10:00 PM: Gates Locked with No Re-entry
SUNDAY
10:00am: Hot Rod E1, Heritage Group 1 E1, Heritage Group 2 E2
12:30pm: Eliminations Round 3
Continue Eliminations To Finals
4:00pm: Track Secured
Racers can stay overnight until Monday at 12 noon
PA Announcements 107.7FM
HRHS RULES CAN BE FOUND ON NHRA'S WEBSITE: here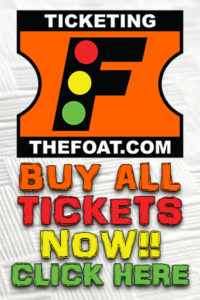 GATE INFO:
FRIDAY
10:00am-7:00pm: Gates Open for Ticket Sales
Admission: Weekend Wristbands $50
Race Entry: $125 per entry
Test & Tune: $50 extra
SATURDAY
8:00am-7:00pm: Gates Open for Ticket Sales.
Admission: Weekend Wristbands $50
1-Day Saturday: $25
SUNDAY
8:00am-4:00pm: Gates Open for Ticket Sales
Admission: $25
PRESALE TICKETS: Online at thefoat.com
RACER PARKING: Racer Package comes with one parking pass for tow vehicle only, when towing in the race car trailer. Extra overnight parking is $40 per RV or camp trailer.

PIT SPECTATOR PARKING: Front lot parking is free. Pit Area parking is $20 per regular vehicle. Pit Parking is limited to designated areas for spectator vehicles. Passenger vehicles are not allowed to park in the racer's pit area. Passenger vehicle parking is on the south side of the return road in the pit area. You assume all risks of theft and damage while parking at Sacramento Raceway.
Every ticket sold is a pit pass and gains you access to the "pit side" and the "spectator side" (north side of drag strip).
The "spectator side" (north side of the drag strip) WILL be open at this event for parking. There are NOT any restrooms available on the north side of the drag strip ("spectator side"). All parking must be nose in (DO NOT park parallel to the fence). If you choose to park on the "spectator side" you will have walk-through access to the "pit side" where you can find restrooms, refreshments and grand stand seating.
There will be food available for purchase at this event and includes full concessions stand all three days and food trucks on Saturday and Sunday.
If you are a racer or purchased overnight camping, you are allowed to bring in your own food. Only gas bbq's are allowed and absolutely no glass bottles on the property.
---
BLOWN ALCOHOL CIFCA FUNNY CARS (5.90 index)
A/Fuel Dragsters
7.0 Eliminator
Jr Fuel
Nostalgia Eliminator 7.60, 8.60, 9.60
7.60, 8.60, 9.60, 10.60 Door Slammers
Vintage Hot Rods